Careers
Working @ Pride Hospitality
Our Culture
At Pride Hospitality, our name reflects our culture. We take pride in our team and we value the personal contribution each team member makes to delivering excellence.
Being a part of the Pride Hospitality team means being part of an organization where personal development is fostered through our commitment to ongoing training and professional growth. It also means being part of a culture where candor is celebrated--we believe we're only at our best when we openly share feedback and work together to create an environment where excellence can thrive. And, of course, when we all succeed at achieving our goals, we believe it is important to recognize both individual and team contributions
Our Values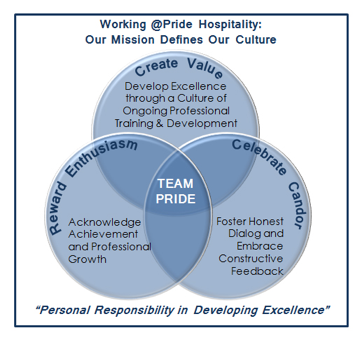 Our values--the principles that guide us--are those we seek in prospective new hires. We strive to attract and retain motivated, enthusiastic and committed team members so we can deliver the most asset value growth to our clients, ensure superior guest experience and remain an employer of choice in the hospitality industry.
Pride Hospitality Values: Perseverance, Respect, Integrity, Dependability, Enthusiasm.
If you're interested in learning more about career opportunities at Pride Hospitality, please review our current job openings below and submit your application online
Apply Online